Best NZ North Island Road Trips from Auckland (Choose Your Adventure)
This page may contain compensated links. For more information read our disclaimer.
-
Choose from four incredible North Island road trips from Auckland, depending on how much time you have.
Our comprehensive North Island road trip guide is complete with all you need to know including drive time, where to go, what to see and do, and the best places to stay during your personalised NZ North Island itinerary.
NORTH ISLAND ROAD TRIP PLANNER 2022 – CONTENTS
New Zealand is one of the most breathtaking and naturally beautiful countries I've ever visited.
I had the pleasure of going on a North Island, New Zealand road trip around this beautiful country for three weeks – lucky me! Now I want to help create the perfect New Zealand North Island itineraries for you. Here's how…
First, I'll give you some of my best tips gained from my road trip around the North Island of New Zealand, then I'll dive right in to the top 4 road trips you can do from Auckland.
Each road trip includes road trip tips, amazing things to do and see, and the best hotels and campgrounds to stay overnight for both car and campervan road trippers.
Want to go straight to the best road trip from Auckland? Jump using this link.
Where to Overnight Stay on a North Island NZ Road Trip
For this article, we searched out the best places to stay during your road trip in New Zealand for both car and campervan drivers. We also talk about the best campsites in the North Island and suggest both paid and free camping options for budget travellers.
We include places to stay in NZ that have something special or unique about them. Only hotels or campgrounds packed with character, have excellent service, facilities and great ratings are able to pass our recommendations test.
For road trippers driving a car, we offer fantastic accommodation options along the way that have free or undercover parking for your car. See the bottom of each Auckland road trip itinerary for our best recommendations on where to stay.
If you're staying in hotels, we rave about Booking.com as the best hotel booking agency since they consistently have the lowest prices and great loyalty discounts that are applied automatically after your first few bookings with them.
For useful tips and information on freedom camping in New Zealand, jump to the section below and read all the information thoroughly.
Where to Hire Vehicles for Auckland Road Trips
There are lots of companies that you can hire a campervan from. When I drive NZ, I like to use Travellers Autobarn. When you hire with TAB, you can pick up your campervan wherever you happen to land, drop them off wherever you want to go, and the prices are reasonable too!
To read all of my super useful tips on hiring a campervan in New Zealand, click this link to jump to the section at the bottom of the article.
Where to go on Auckland Road Trips
You might be wondering where you want to go first on road trips from Auckland, and you can't really decide just by looking at the map. That's why we put this North Island road trip guide together.
Check out our 4 awesome road trip options here and compare which one suits your time limits and the type of activities you like best.
North Island Road Trip Map
These custom road trips in the North Island map is split up into coloured sections with an Auckland itinerary and our 4 best road trips from Auckland, things to do, sightseeing stops and where to stay for a night or two along the way.
To open and save our road trip maps into your own Google Maps app on your phone, simply tap the small square frame icon on the top right-hand side of the map, when looking at this article from your phone.
The map will automatically save into "Saved" > "Maps" with the title Itinerary New Zealand North Island Road Trip. You can then select an area to download and use offline, ready for any time you don't have access to mobile data in New Zealand.
All of the road trips we write about in this post start in Auckland since this is the place you will most likely land when flying in.
We have loads of information and tips on renting vehicles in Auckland at the bottom of this post.
Click here to skip over our Auckland itinerary and go straight to the road trips!
Auckland Itinerary
Suggested Stay: 2 – 4 days
Auckland is a vibrant city, located between two harbours and surrounded by a cluster of small islands, bays and beaches, ready to explore. Auckland is the largest city in New Zealand, but it feels cosy and intimate.
The thriving main street, Queen Street, has some exceptional places to eat and shop. Korean Barbecue and Japanese were among our favourites.
Things to do in Auckland
Choose from a range of activities that you'd expect to find within a vibrant city including amazing museums, cultural shows and look-outs. Walk the harbour in the late afternoon and dine on the shores in a bar or restaurant.
Although there are lots of fun things to do in Auckland, here are some of the most unique and special.
Take a tour of one of the picturesque Islands
With a selection of gorgeous islands to choose from right on Auckland's doorstep, it will be difficult to choose just one! Take a tour to one of the islands near Auckland, relax and unwind on a wine tour on Waiheke Island, scuba dive the Goat Island marine reserve, or explore the dormant volcanic island of Rangitoto.
Waiheke Island, Rangitoto Island, and Rakino Island can easily be accessed by ferry from the mainland. This is a good option for budget travellers not wanting to pay for a tour.
Waiheke is absolutely gorgeous with easy access by public transport around the island. Head to a winery for a tasting, check out a secluded beach or explore the tiny township and eat lunch on the water.
If you're after an island you can walk around in one day, consider Rakino Island, it's only 2.4km long with several publicly accessible beaches. However, with only 16 residents and limited ferry service, this island offers little more than seclusion for your North Island trip.
Climb Mount Eden for city views
Mount Eden is Auckland's famous crater mountain. It is one of 48 volcanic cones in New Zealand and is known for its expansive views of the city. Set inside a 5.5-acre award-winning garden you can see stunning waterfalls, rock formations, native birds and plants all in one place.
Along with the gorgeous gardens, you can also engage in cultural activities at a former Māori settlement. Do a tour to Mount Eden if you want kiwi guides to teach you even more about this popular tourist destination!
Visit the famous Auckland War Memorial Museum
Discover the fascinating history of New Zealand in one of the finest museums in the southern hemisphere. Hear the story of the brave Polynesian voyage that first brought people to Aotearoa, and the diverse cultures and communities developed since, and admire stunning views across the city, harbour, islands and beyond.
Until 2020, the museum also offered the famous Maori Cultural Performance, but since there have been no international visitors to New Zealand, the museum has cut these performances indefinitely. This cultural performance by arts troupe 'Raukawa' was regarded as one of the best in the world.
You can buy your Auckland Museum tickets here.
Day trip to the black sands of Piha Beach
Sink your feet into the black sands of Piha Beach, what the wild west coast of New Zealand is best known for.
This rugged beach nestled within the Waitakere Ranges Park is a popular surfing beach that often has strong and dangerous currents, however, in summer lifesavers petrol the beach and clearly mark with flags where the safest swimming areas are.
Piha is the perfect day trip from Auckland, especially if you couple the trip with a visit to Karekare Falls, a hike to Kitekite Falls, or a walk along the Arataki Nature Trail on the way in or out.
If you have the time, pop over to other beaches nearby like Whatipu, Karekare, Bethells or Muriwai. In Muriwai you can also view the clifftop gannet colony between September and April and see the impressive Lion Rock formation.
Get away from the tourist traps at Browns Island
You'll probably be surprised to learn that Browns Island is actually in the middle of Auckland harbour. And you'll be even more surprised when you visit there during your travels in New Zealand.
Despite the island's position, it rarely sees any tourist boats and has very few structures. It's incredibly green and peaceful and is actually one of the most intact volcanoes in Auckland's volcanic field. It's also dotted with archaeological ruins from Māori pā, otherwise known as villages or defensive settlements.
So, if you have the time during your Auckland road trip, make your way out to Browns Island by kayak or private boat and spend some time exploring the ruins and enjoying nature.
Save some money by doing one of the free activities in Auckland
There are a number of cool and unique things to do in Auckland CBD that are totally free. Visit the Domain Wintergardens, walk along the pink lightpath for fabulous city views, or visit North Head for history and harbour views.
We delve into all these cool activities in our post, Free Things to do in Auckland.
Where to stay in Auckland
Half Moon Bay Motel
Pretty, private, and centrally located while offering a homey atmosphere, this hotel has studios and apartments close to Auckland attractions and the ferry terminal, making a day trip to an island even easier. Some of the rooms have marina views and the accommodation has free parking for your car or camper.
The Shakespeare Hotel
The best thing about this hotel is its brewery, where you can enjoy a cold drink after a long day exploring the city. It's a short walk from the waterfront and also has an English style pub, a restaurant, and a terrace bar where you can relax and try the local delicacies. Car parking costs $30 per day.
The Sebel Auckland Viaduct Harbour
This hotel is for anyone who wants a bit of luxury during a North Island NZ itinerary. It's centrally located, close to shopping and dining areas, and has amazing views of the city and the marina! If you're really lucky, you'll get a room with a balcony and a view. Parking on-site costs $38 per day.
Camping in Auckland
Campervan parking around central Auckland is sparse and rarely free. You can find a couple of city-central paid sites at Remuera and Z-Pier.
● Central Auckland Camping: Avondale Motor Park ($20 per person as of Feb 2022) – Cosy powered or unpowered sites in a green, sunny, and spacious area with all the facilities you'd need.
● Downtown Auckland Camping: Z-Pier ($20 – Closed until approx. March 2022) – Marina overnight parking for self-contained vehicles. Park and walk everywhere and anywhere!
● Remuera Camping: Remuera Motor Lodge ($25 per person as of Feb 2022) – In a central location with a pool, internet, plus an outdoor and BBQ area.
4 Awesome Road Trips from Auckland
Ready to hit the road? We have more than enough North Island road trips to keep you busy no matter how long you have in New Zealand. All you have to do is calculate how much time you have and what you want to see and do the most!
❶ Northland (4-7 days): Dolphins and islands, ancient kauri trees, hiking and sand dunes
❷ Coromandel Peninsula (2-5 days): Scenic drives, Hot Water Beach, rainforests, hikes, and kayaking
❸ Rotorua and the Bay of Plenty (4-6 days): Hot springs, spas, volcanoes and Hobbiton village
❹ Wellington via Hamilton (8-14 days): City-to-city with extreme nature in between including caving, hiking, surfing, and wine tasting
How many days do you have in the North Island?
These are our New Zealand road trip itinerary recommendations based on how long you have in the North Island.
3 Days North Island, New Zealand
With only 3 days in North Island, New Zealand the Coromandel Peninsula itinerary is the perfect North Island road trip for you. Skip the overnight Pinnacles hike though, as you probably don't have enough time. Alternatively, you could do a quick Bay of Islands road trip and follow the Paihia itinerary, with a day trip to Kerikeri too.
5 Days North Island, New Zealand
5 days is a decent amount to do any of the first 3 North Island road trips on this list. You could do a quick trip to either Northland or Rotorua/Bay of Plenty, cutting out a few activities, or you have time to do a decent road trip in the Coromandel Peninsula, including the Pinnacles hike.
7 Days North Island, New Zealand
So you have time for a one-week North Island road trip? 7 days in North Island will give you time to do the full Northland itinerary, or combine the Coromandel Peninsula and Bay of Plenty road trip itineraries.
10 Days North Island, New Zealand
To get the most of your 10-days North Island, New Zealand itinerary you have a few good options. First, you could combine the full Coromandel Peninsula and Rotorua road trips. Or, you could combine the full Bay of Plenty itinerary and only the Waikato region itinerary of the Wellington road trip. Lastly, you could do a quick Auckland to Wellington road trip (with no return to Auckland).
2 Weeks North Island, New Zealand
A 14-day North Island road trip is the perfect amount of time for a full road trip from Auckland to Wellington, or combine your choice of 2-3 of the other road trip itineraries.
3 Weeks North Island, New Zealand
Amazing! You have time to combine all 4 of the North Island road trips together for the most epic end-to-end New Zealand North Island itinerary ever!
Northland Road Trip
Distance Covered: 875 km, 12.5 hours driving
Total Time Needed: 4 – 7 days total
● Best Auckland road trip for rugged scenery, islands, dolphins and giant ancient kauri trees.
Northland consists of a large subtropical peninsula starting from just outside Auckland and stretching all the way to the very northernmost tip of New Zealand.
Northland is an incredibly scenic part of New Zealand, serving you both rugged and windswept on the west coast, and tranquil and serene on the east coast.
I highly suggest adding Northland to your New Zealand road trip itinerary if you have enough time. You won't be disappointed!
Northland Road Trip Highlights
● Dolphin watching
● Gorgeous bays and islands
● Spectacular hikes and walks
● Slide down giant sand dunes
● See huge ancient kauri trees
Places to Visit
● The Bay of Islands
● Paihia
● Kerikeri
● Cape Reinga
● Waipoua Forest
Bay of Islands Itinerary (Paihia and Kerikeri)
Distance: 230 km, 3 hours drive from Auckland
Suggested Stay: 2 – 3 Days
Paihia and Kerikeri are the mainland towns on the east coast from which the Bay of Islands can be accessed. This tranquil and secluded part of New Zealand is known for its undeveloped beaches, dolphin cruises and amazing Māori cultural artefacts and villages.
The Bay of Islands is also home to the quaint seaside village of Russell, which was originally a whaling port and was the first colonial capital of New Zealand.
The Bay of Islands itinerary by itself would be an incredible weekend road trip from Auckland.
Things to do in Paihia
Despite its small size, there's plenty of Paihia activities to try in this charming seaside town, and you'll soon find that a few days may not be quite enough time.
Here's a list of the best things to do in Paihia and Kerikeri.
Kayak around the Bay of Islands
On the shores of Paihia, you'll have the opportunity to hire a Kayak to explore the area.
You can choose to paddle upstream amongst the mangrove forests and birdlife to horseshoe-shaped Haruru Waterfall, or you can paddle around the bay near Paihia and Waitangi, past beautiful, uninhabited islands and through crystal clear ocean waters.
At the Haruru waterfall, you can paddle right underneath; getting saturated with the spray is super fun!
Discover dolphins and the Hole in the Rock on a cruise
If you have never seen a dolphin in the wild, this is the trip for you! The dolphins live permanently around this bay area and you're almost guaranteed to see them.
The cruise tour will visit the hole in the rock, and if the conditions are right, they will travel through it! There's also a stop off at Russell, a quaint village previously a whaling port, and cruise past picturesque islands with time to relax, eat, explore, or swim.
Visit the Waitangi Treaty Grounds
No NZ road trip would be complete without understanding a little of the country's history. And the Waitangi Treaty Grounds is one of the best places in the entire country to visit for that. It's one of the most important historic sites in New Zealand and is where the first accord between European settlers and the Māori was signed in 1840.
Located in a lovely park with great views, there's a museum at the site where you can learn more about this landmark signing, which helped define Māori rights in New Zealand.
Wander along the Paihia School Road Track
If you enjoy easy walks with stunning views as your reward, then try the Paihia School Road Track. This trail curves gently through a forest to the Opua Forest Lookout. The views you'll enjoy at the end are truly stunning!
Things to do in Kerikeri
Distance from Paihia: 24 km, 20 minutes drive
Take the walking trail to Rainbow Falls
The short 10-minute scenic walk to Rainbow Falls is notorious for kiwi bird sightings.
Once you've checked out the falls from the various platforms above, head towards the bottom where, after a little bit of boulder-hopping, you can almost get behind the falls.
If you have more time on your hands, take one of the trails next to the falls, I recommend the one that follows the river downstream. Revel in the gorgeous nature and serenity you'll no doubt find yourself in here.
Discover more about Northland as I visit Rainbow Falls, do a dolphin tour and explore Cape Reinga in my vlog.
Explore the fascinating Rewa's Village
Rewa's Villa is a replica pre-European Māori fishing village that will give you a fascinating insight into New Zealand's history. It's located in a native forest and has everything from a museum to lovely gardens and traditional buildings for you to explore. And like almost everywhere else in New Zealand, there are stunning views over the Kerikeri Basin from several vantage points around the village.
Look for kiwi birds on Aroha Island
You can't leave New Zealand without trying your best to see kiwi birds in their natural habitat. You'll get the chance to spot these odd little birds on Aroha Island night walks, located just 12km from Kerikeri.
But even if you don't spot a kiwi, there's plenty more to do on Aroha Island. The entire island is a bird sanctuary that offers lots of walking tracks through the native bush as well as mangroves you can explore in a kayak, so be prepared for a really active visit!
Where to Stay around Paihia and Kerikeri
We recommend staying in Paihia overnight and visiting Kerikeri as a day trip. However, we've also provided a couple of good options if you would prefer to stay in Kerikeri specifically.
Paihia is a tiny town, so you may have to book early if you want to travel in peak times to ensure that you have somewhere to lay your head during your Auckland to Paihia road trip!
Paihia: Dolphin Motel
You can't get much better than this hotel for its great location. It's just 100 metres from Paihia wharf and has apartment-style rooms, some with fully equipped kitchens in case you want to save some money on food during your stay.
Paihia: Scenic Hotel Bay of Islands
New Zealand North Island road trips are all about nature and this hotel drives that point home. It's located on 4 acres of beautiful gardens with an outdoor swimming pool and communal terrace. And yet despite the natural setting, it's also just a short walk from all Paihia attractions.
Kerikeri and Paihia Freedom Camping
The drive from Auckland to Paihia is short and scenic, and there are plenty of campsites to choose from along the coastline on the way north.
In Paihia township, though, you won't find many freedom camping sites as most are located outside of town, so it is better to pay for a spot in a motel or campervan park if you'd like to be close to the centre.
● Kerikeri Camping: Puketi Recreation Area Campsite ($8 per night as of Feb 2022) – Close to kauri trees on the edge of a forest, this basic campsite is located a one minute drive to Kerikeri.
● Paihia Camping: Waikahoa Bay Campsite ($15 per night as of Feb 2022) – Camp beside a sandy beach among the pōhutukawa trees. Though this freedom campsite is an hour and 20 minutes drive to Paihia, the scenic location and proximity to water activities make it worth the effort.
Cape Reinga Itinerary
Distance: 197 km, 2.5 hours driving from Paihia
Suggested Stay: 1 – 3 Days
Visiting Cape Reinga is a beautiful, eye-opening experience, entwined with tales traditional to Māori culture and rugged landscapes.
The most northern tip of New Zealand is often thought to be Cape Reinga, however, what most don't realise is that the actual tip is North Cape, but it's a scientific reserve mostly inaccessible to the general population.
Things to do in Cape Reinga
There are loads of cool stuff to do on an Auckland to Cape Reinga road trip, from beautiful scenery to giant sand dunes to slide down.
These are the best Cape Reinga attractions to visit on your Northland road trip.
See two oceans collide at the Cape Reinga Lighthouse
Surrounded by Māori folklore, the lighthouse sits at the northernmost point and is the meeting place of two seas: the Tasman Sea and the Pacific Ocean. Watch the currents swirl and collide together in an endless display.
'Te Rerenga Wairua' in Māori language means the leaping-off place of spirits. Nestled on the cliff edge is a gnarled pohutukawa tree known to the Māori people as a place where spirits descent into the underworld. The tree's roots act as steps down to the water.
In addition to its interesting story, Cape Reinga lighthouse has spectacular 360-degree views of the oceans and dramatic cliffs that surround it. I wrote more about this awesome free attraction in detail in my guide: Free Things to do in New Zealand.
Slide down the sand dunes at Giant Te Paki
These steep dunes on 90 Mile Beach will bring out your inner child and have you squealing with joy! Use anything you can get your hands on to help you slide down the dunes, be it a boogie board or even just a simple piece of cardboard.
If driving, the exact location of the dunes can be a bit tricky to find since the beach is so long. Use the Giant Te Paki dropped pin on my Google MyMap to help you find a park close enough to walk to the dunes.
⚠️WARNING for 90-Mile Beach: Only attempt to drive on the beach if you have a 4WD vehicle. This may seem obvious but many a tourist has needed to be rescued from this particular beach.
Alternatively, there are tours from Paihia that will take you driving up 90-Mile Beach including a visit to the Te Paki sand dunes. These tours also include other Northland activities.
Camp on a secluded beach with horses at Spirits Bay
Kapowairua, or Spirits Bay, is a stunning, secluded beach and campsite down a short dirt road. The grassy campsite is surrounded by a scenic cliff-face and beautiful horses roaming the grounds.
Less than a minute's walk from the campground is the pretty green waters of Spirits Bay Beach, with sands that sometimes sparkle pink due to thousands of tiny shells. The beach stretches out as far as the eye can see, and is generally void of human life.
I cannot recommend Kapowairua (Spirits Bay) campsite enough, it is simply breathtaking and is surely the best freedom campsite on the North Island!
Hike the Te Paki Coastal Track
If you're fairly fit, have 3-4 extra days on your hands and are up for a challenge, then you'll love hiking the Te Paki Coastal Track during your upper North Island road trip. It's a fairly challenging multi-day hike that stretches 48km over some of the most scenic land in the area.
The trail starts at Kapowairua (Spirits Bay) and tracks along Cape Reinga, passing through 90 Mile Beach and Te Paki Stream along the way. There are very few facilities along the way and only a couple of camping spots, so make sure that you carry everything you need and let someone know where you're going to be.
Where to stay around Cape Reinga
Pukenui Holiday Park
Located close to Houhora Harbor, this holiday park offers cabins with kitchens and outdoor patios. There's a laundry at the park as well as a BBQ area and lots of facilities to keep the kids happy like farmyard animals to pet!
Cape Reinga Freedom Camping
● Northland Camping: Raetea North Side Campsite (Free) – Located in the tranquil lowland coastal forest of Mangamuka Gorge, a 1.5-hour drive to reach Cape Reinga. Perfect for an overnight stay between Paihia and Cape Reinga.
● Cape Reinga Camping: Kapowairua/Spirits Bay Campsite ($15 per night as of Feb 2022) – The campsite sports outdoor pit toilets, fresh running water, vibrant green ocean and endless beaches nearby, plus resident horses. Soul soothing guaranteed.
● Cape Reinga Camping: Tapotupotu Conservation Campsite ($15 per night as of Feb 2022) – Just a 3-minute drive from the cape, this scenic campsite is close to a lagoon where you can go swimming or kayaking. It's also on the Te Paki Coastal Track, meaning it's the perfect place to start your hike.
Stops on the Cape Reinga to Auckland Drive
Distance from Auckland to Cape Reinga: 445 km, 6 hours drive
Driving between Auckland/Cape Reinga is quite a long distance. It would be best to split this leg of the trip up with an overnight stay near the Waipuoa Forest.
Visit the thousand-year-old trees at Waipoua Forest
Of all the kauri forests in New Zealand, Waipoua Forest has got to be the most famous in New Zealand. This is because Waipoua houses not only the largest tree but also the oldest tree in New Zealand.
Tāne Mahuta is the largest kauri tree in New Zealand and is about 2, 000 years old. Its canopy has an ecosystem of its own and the 4.4 diameter trunk is still growing!
Although these incredible trees are a popular attraction for bus tours, it's worth braving the crowds to see them. While you are there you can take one of the quieter hiking trails in the area and maybe even spot a kiwi bird!
You can book a local Māori guide to walk you through the ancient forest and learn about the stories of the Māori legends.
Spot wild kiwi on a forest night walk
This lush 40-minute walk along a boardwalk through the kauri trees at Trounsen Kauri Park offers your best chance at spotting a kiwi in the wild.
To spot the kiwi, the walk must be taken at night, with a red filter covering your torchlight. Let the kiwi guide you by listening for their distinctive "kee-wee" call drifting through the night air.
The park is also worth a visit by day too since interpretation panels and audio points make the experience highly educational. Look out for fantails, pied tits, ruru (native owls) and many other forest birds which call this place home.
Near the entrance of the walk, a small freedom camping ground offers a tranquil place to park your campervan for the night. Read more on this freedom campground below.
Other Cool Places to Stay in Northland
If you have more time to add to your Northland New Zealand road trip, we recommend adding these cool places to stay to your itinerary.
Tutukaka: Ocean Purring View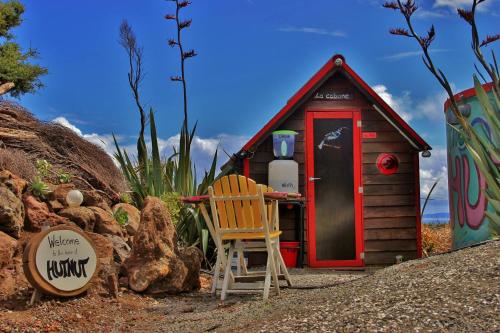 This Tutukaka hotel in is just a short walk from the beach and offers free private parking as well as comfortable rooms and beautiful views of the sea or the mountains.
Trounsen Kauri Park Campground
● Donnellys Crossing Camping: The Trounsen Kauri Park Campground ($20 per night as of Feb 2022) – A notable Northland freedom camping spot quite close to the Kauri trees at Waipoua Forest.
But that's not all! Right on the campground is a 40-minute loop track through the forest that can be walked at night. If you're lucky you can spot a kiwi bird foraging for food.
The Trounsen Campground communal kitchen area provides information on spotting kiwis and even some red filters for your torch so you won't disturb the birds.
You can sleep in the forest, enjoy hot showers, and even partake in the Kiwi night walk through the grounds. It is great value and a highly recommended stay during your road trip through New Zealand.
Coromandel Peninsula Road Trip
Distance Covered: 485 km, 8 hours driving
Total Time Needed: 2 – 5 days total
● Best short road trip from Auckland to visit beautiful beaches and rainforests.
One of the North Island's most serene locations, the Coromandel Peninsula is full of gorgeous scenery and mind-blowing attractions. Discover heavenly beaches, tranquil rainforests, and hiking trails galore on this short road trip loop.
Chances are you'll find yourself on the semi-famous 309 Road at some point on your Coromandel road trip. This windy, rainforest road is incredibly beautiful and is campervan heaven, with an abundance of cheap freedom campsites and numerous natural adventures to keep you entertained.
Coromandel Road Trip Highlights
● Incredible cave formations on the beach
● Dig your own natural spa bath
● Fused kauri trees and waterfall walks
● Kayak inside of a doughnut-shaped island
● Explore a historic mining town
● See sunrise and sunset over the mountain ranges
Places to Visit
● Cathedral Cove
● Hot Water Beach
● 309 Road / Waiau Falls
● Whangamatā / Donut Island
● Thames
● The Pinnacles
Coromandel Peninsula Itinerary
Distance: 170 km, 2.5 hours drive from Auckland
Suggested Stay: 2 – 5 days
With the Coromandel being only a couple of hours drive from Auckland, our Coromandel Peninsula itinerary is the perfect road trip from Auckland if you only have a few days (or a weekend) away.
This spectacular Coromandel Peninsula road trip will have you hiking to the Pinnacles, building your own hot tub on a beach, visiting a cave in the shape of a cathedral and kayaking into the middle of an island!
You'll drive through lush rainforest and past spectacular coastline, visit historic towns, and overnight in picturesque campgrounds.
Things to do in Coromandel Peninsula
Visiting the Coromandel Peninsula is the perfect weekend trip from Auckland. There are plenty of quality Coromandel attractions that will keep you entertained for a couple of days or a full week!
Wander around the mining town of Thames
Located on the west coast, this was previously a gold mining town and still retains much of its historical feel. It also has some really good cafes and stores and offers lots of amazing walks for adventure lovers.
Dig your own spa on Hot Water Beach
Imagine a beautiful beach with volcanic activity underneath… A beach that has hot springs running through the sand… What if I said that you could go there and dig your own hot water spa to sit in? Just inches from the ocean! Sounds pretty awesome right? This can all be done for free at Hot Water Beach in the Coromandel.
Digging your own geothermal spa bath in the sand on this spectacular beach is one of my favourite Coromandel activities and is fast becoming one of the most popular things to do on the North Island. Make sure you read my tips on everything you need to know about Hot water Beach before you go there!
Take the spectacular coastal walk to Cathedral Cove
Cathedral Cove might just be the most beautiful beach New Zealand has to offer! Sparkling aqua-coloured water and soft sand, all closed off from the rest of the world by surrounding cliffs.
At one side, a cathedral-shaped hole in the rock leads you to yet another paradise beach – so long as the tide is down. If the tide is high, it still makes for amazing photographs and Instagram-worthy selfies!
Go sea kayaking into the centre of an Island
Whenuakura Island, or Donut Island to the locals, is perhaps the Coromandel's best-kept secret.
Take a short 600m kayak from the front of Island View Reserve in Whangamata to the cave entrance. Paddle inside and enter into a secluded turquoise lagoon, created by the collapsed volcano blowhole, now surrounded by native fauna and volcanic rock cliff.
Donut Island is a wildlife sanctuary, rich in history and is Māori sacred ground, meaning you aren't allowed to step foot on the island. But admiring it from your kayak whilst feeling like an island castaway is still an incredible experience.
You can hire your own kayak and paddle to the island yourself, or take a tour with a local guide and learn about the scenery and history along the way.
Check out the gorgeous Waiau Falls and Kauri Grove Walk
Waiau Falls and the Kauri Walk are both a short 2-minute drive from each other (or a quick walk) on the 309 Road. The Kauri Grove Walk will take you to the 'Siamese Kauri,' two trees that have fused into one at the base. Waiau Falls is a pristine waterfall surrounded by boulders, perfect for a refreshing dip in the green milky waters.
The Waiau Falls are a little bit "off the beaten path," and our 3G didn't work so well out there which meant had a little bit of trouble finding them. However, once on the 309 Road there are signs to Waiau Falls, so just follow them!
I went off the beaten path, built my own Hot Water Beach spa and visited Cathedral Cove in my Coromandel Peninsula vlog, check it out here.
Drive the 309 Road
The 309 Road is a 22km long, narrow, winding, gravel and sealed road between Whitianga and the town of Coromandel. But it isn't for the faint-hearted, as this is a road on which you must go slow and steady and keep left on the corners. That being said, it is still the shortest route between Mercury Bay's Whitianga and the Hauraki Gulf's Coromandel Township.
So why drive this road? It's a very scenic drive through an untouched pine forest that follows a meandering stream.
Along the road, you can see Waiau Falls and the Kauri Grove Walk mentioned above, plus Castle Rock (an old volcano that rises from the bush), Waiau Waterworks (water-powered sculptures), Harmony Gardens and some pigs. Yep, there are wild pigs that walk all over the road and most people driving the road will spot them!
Hike to the spectacular Pinnacles and stay in a hut
If you're into hiking, don't miss the Pinnacles Track, one of New Zealand's most popular hikes. The Webb Creek Trail to the Pinnacles Hut in Coromandel Forest Park climbs through ruggedly beautiful mountain ranges and thick forest, across suspension bridges, and ends with spectacular views of the Coromandel Peninsula.
Though you can do the Pinnacles hike as a 6 hour return day hike, we recommend staying overnight in the mountain hut for $25 per night so you can see the Pinnacles vista for both sunset and sunrise. Add an extra day to your Coromandel itinerary if you decide to take us up on this suggestion.
Where to Stay in Hot Water Beach
Hot Water Beach Top 10
The closest holiday park to Hot Water Beach. It's only a 9-minute walk to the beach or a quick drive. Featuring units with a dining area and patio, kitchen plus an on-site restaurant. If cabins are out of your budget, unpowered campsites start at approx. $23 per night but discounts are offered for seasonal or long stays.
Seabreeze Holiday Park
Seabreeze Holiday Park is a bit further away (almost 30km to be exact) from Hot Water Beach, but it does have mountain views! It also contains a playground for the kids, and an on-site restaurant and convenience store. Seabreeze has unpowered campsites from $18 and powered sites from $20 (as of Feb 2022).
Hot Water Beach Cottage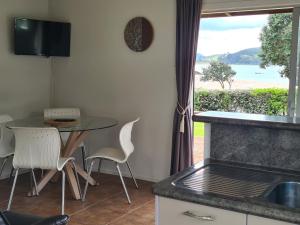 Now, this is a place close to the beach! Boasting enough room for four guests with a large patio and great beach views. In fact, Oceanside Cottage is literally just across the road from Hot Water Beach. However, it's just one rental apartment found on Booking.com, so get in quick!
Coromandel Freedom Camping
There are a lot of great freedom camping spaces to choose from in the Coromandel! However, any campsites run by the TCDC require you to be in a certified self-contained vehicle. You can ask for this certification when hiring your campervan.
Of the Coromandel freedom campsites listed below, only Egan Park Reserve requires self-contained certification.
● Coromandel Camping: Broken Hills Campsite ($15 per night as of Feb 2022) – This scenic campsite is located beside the Tairua River among native bush. The location is perfect for weary travellers just entering the Coromandel and heading north.
● Kauaeranga Valley Camping: Totara Flat Campsite ($8 per night as of Feb 2022) – A riverside campsite at the end of the valley and close to the Webb Creek Track up to the Pinnacles.
● 309 Road Camping: Egan Park Reserve (Free) – A great campsite for self-contained vehicles only, located on the 309 Road near Hot Water Beach. The freedom campsite is in a sheltered valley next to a lovely stream that you can also swim in!
Bay of Plenty and Rotorua Road Trip
Distance Covered: 599 km, 8 hours driving
Total Time Needed: 4 – 6 days in total
● Best Auckland Road Trip for culture, hot springs and volcanoes.
Do you love volcanoes? We do too! One of the biggest drawcards to Rotorua and the Bay of Plenty is the abundance of geothermal and volcanic activity, making this our most extreme and exciting North Island road trip itinerary yet!
The Auckland to Rotorua road trip loop takes you to the geothermal wonderland of Rotorua and distinctive landscapes of the Bay of Plenty, with stopovers in the Karangahake Gorge rainforest, and Matamata for a visit to the Hobbiton movie set.
Rotorua Road Trip Highlights
● Historic rainforest walk and staircase falls
● Savour amazing local produce
● Visit hot springs and fly over active volcanoes
● Mud baths, extreme sports and spectacular hiking
● Explore the adorable LOTR Hobbiton village
Places to Visit
● Karangahake Gorge
● Tauranga
● Whakatane
● Rotorua
● Hobbiton
Stops on the Auckland to Bay of Plenty Drive
It's a 4-hour drive between Auckland and the Bay of Plenty, so we suggest you split the trip up with an overnight stop at the Karangahake Gorge rainforest.
Take the Karangahake Gorge Historic Walkway
The Karangahake Gorge Historic Walkway is entrenched in an old mining town surrounded by a lusciously forested valley.
The rainforest path follows old train tracks and leads you through kilometre-long abandoned train tunnels, under rocky crevices, and over bridges. Information about the old mining town is displayed on plaques and old mining relics are dappled along the way to discover.
Visit Owharoa staircase falls
Just a couple of kilometres from Karangahake Gorge, the stunning staircase Owharoa Falls are the ideal photo op detour since they are easily accessible from the main road. Slow down your shutter speed for milky water magic as you marvel at the rainforest surrounds.
Freedom camp near Karangahake Gorge
Dicky Flat is a highly recommended freedom campsite that sits on the Waitawheta River, known for trout fishing and great swimming downstream.
The little trail next to the campsite that follows the river is absolutely stunning! The toilets are clean, and it features gravel parking with a lawned area for tents.
Whakatane and Bay of Plenty Itinerary
Distance: 286 km, 4 hours drive from Auckland
Suggested Stay: 1 – 2 Days
The Bay of Plenty is known for sunshine, great surf beaches, and friendly people. The Bay area is also steeped in Māori culture and history, just waiting for you to discover.
Situated on the Bay of Plenty, dotted with various large islands, the Whakatane township is a mix of a beach resort and cosmopolitan city living.
Things to do in Bay of Plenty
The Bay of Plenty has a variety of activities, and most can be accessed from the town of Whakatane. Nearby, Tauranga is a colonial city nestled on New Zealand's largest export port.
A number of cool geothermal activities are located in the Bay of Plenty, the most famous being White Island, an active volcano island with a spectacular green boiling liquid crater.
Fly over an active volcano island
It's a little costly, but if you can afford the White Island tour, do it. It's seriously one of the coolest activities you will ever do!
The scenic flight will take you over the township of Whakatane before heading offshore over an extinct volcano called Moutohora (Whale) Island that is now a wildlife refuge. Then it's over to Whakaari (White) Island, an active marine volcano where you can see roaring gas vents, bright yellow sulphur and even molten water boiling away inside the crater!
Be sure to bring your best camera as the photo opportunities are INCREDIBLE! The pilot will ensure you get uninterrupted views of the islands from all angles and be sure to keep a lookout for dolphins, seals, and large schools of fish. Tours are 1-hour and depart from Whakatane Airport.
Before the horrible eruption of the White Island volcano in 2019, you used to be able to do a tour that actually walked around on the island. I was able to do this tour and even vlogged my experience. Watch the video to learn more about this incredible place.
Dig your toes in the white sands of Ohope Beach
Visit the stunning, flat, 11km-long Ohope Beach, voted one of New Zealand's best beaches. Endless white sand for you to find your own spot, swim, surf, walk, or even bring your dog!
Take a horse-riding trek with TuiGlen Farm
Horseback is one of the best ways to explore the Bay of Plenty and it's a great activity if you're travelling with kids. This family-owned facility offers some of the best horse-riding tours in the area and with thousands of acres to explore, there's something beautiful around every corner!
TuiGlen Farm is about half an hour driving from the town of Whakatane.
Become a foodie in Tauranga
Tauranga is the largest city in the Bay of Plenty and is becoming known for being a foodie destination. The climate in Tauranga is warm and dry, so the land around it produces a lot of amazing produce you can enjoy at the city's many food spots.
For the best restaurants in the city, visit The Strand precinct on the waterfront. You'll find numerous cafes, pubs, bars and restaurants in this small area and many of them serve food that you just won't find anywhere else.
Where to Stay around Whakatane
One88 on Commerce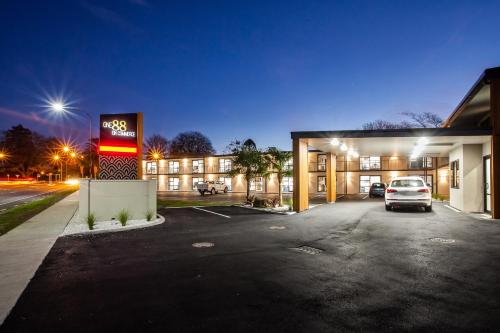 If top service is what you look for in accommodation, then you can't miss a night in One88 on Commerce in Whakatane. The staff are professional and will make sure that your visit is everything you could wish for. Housekeeping is excellent and the rooms are spacious, even with the super-king beds. The motel is located a 5-minute drive from Ohope Beach and might just be the best motel you ever stay in.
Freedom Camping around the Bay of Plenty
● Karangahake Camping: Dicky Flat Campsite ($8 per night as of Feb 2022) – Cute and clean campsite close to Karangahake Gorge and Owharoa Falls.
● Whakatane Camping: Matatā Campsite ($8 per night as of Feb 2022) – A family campsite close to Whakatane in a coastal setting with excellent fishing and swimming next to the Matatā wildlife refuge.
Rotorua Itinerary
Distance: 85 km, 1.5 hours drive from Whakatane
Suggested Stay: 2 – 4 days
Next, you'll mozy over to Rotorua which isn't very far at all from Whakatane.
Rotorua is known as a geothermal city, and the entire area is thriving with bubbling streams and pools. The sites in Rotorua absolutely took our breath away (and it wasn't just because of the rotting egg smell of the sulphur)!
Rotorua is one place I would really recommend visiting, even if you don't go anywhere else on the North Island.
Things to do in Rotorua
There's an abundance of different things to do in Rotorua, not all of them centre on volcanic activity – although most of the best Rotorua activities do!
Rotorua claims it is the best volcanic, geothermal, and cultural city in the world and is a popular destination for people who love the outdoors. Visit a redwood forest, hot springs, lakes, mountain bike trails, and local markets.
If you like extreme sports, be sure to try whitewater rafting, ZORBing or visit Velocity Valley adrenaline park.
Check out the colourful hot springs at Kuirau Park
This park is absolutely free and simply teeming with hot springs, which range from thick mud pools to clear bright green and yellow springs which light up the water in spectacular colour.
There is also a children's park, picnic and BBQ facilities and a foot pool to soak your feet in once you've finished walking around. On Saturdays, there is a weekly flea market at the park.
Go whitewater rafting at Okere Falls
Get your adrenaline pumping with a whitewater rafting experience on the Kaituna River, one of New Zealand's most exciting and beautiful rivers! Your expert guide will take you down 14 epic warm water canyon rapids, including the worlds highest rafted waterfall, 7-meter-tall Tutea Falls.
Whitewater rafting tours last around 50-minutes and the river can be rafted year-round.
Soak in the Hell's Gate Mud Bath and Sulphur Spa
"This could be the very gates to hell," stated George Bernard Shaw upon seeing the geothermal landscapes nestled within the native bush.
The Hells Gate Mud Baths were once used by Māori warriors to heal their battle-scarred bodies. Now visitors use nutrient-rich water and mud to ease inflammation and arthritis and rejuvenate the skin. Lather up in the volcanic mud, then exfoliate and cleanse your skin with a soak in a sulphur spa.
Grab your Hell's Gate tickets here for the full mud bath experience.
Learn about the Buried Village of Te Wairoa
The Buried Village is New Zealand's most visited archaeological site. Learn the story of the Pink and White Terraces, named the 8th Wonder of the World before the terraces and the entire village nearby was obliterated by the 1886 Mt Tarawera eruption.
The Buried Village of Te Wairoa features an interactive museum, scenic walking trails, and a look at the devastating effects of one of New Zealand's greatest natural disasters. The award-winning museum sheds light on the hardships suffered by this once-bustling European and Māori village settlement.
Explore the redwoods at Whakarewarewa Forest
This astonishing forest is just 5 minutes from the city centre and is filled with huge redwoods that will make you understand just how small human life really is. The forest is beautiful enough on its own, but it has also become known for its outdoor activities.
You can explore the forest on one of the many mountain bike trails, by horseback, from above on the canopy walk or even a zip line. It's also a famous spot for photographers, so make sure that you bring your camera during your wanderings.
Soak in the warmth of Kerosene Creek
Set amongst lush native bush, Kerosene Creek is popular among both travellers and locals, who come to relax out under the mesmerising hot volcanic geothermal falls! The water is just right for a soak and it offers a natural bathing experience like no other.
The river is easily accessed from the road (only a 200-metre walk) and there is parking with toilets and showers as well. Access to Kerosine Creek is free, making it a popular choice for locals especially.
Of note, don't put your head under when swimming, as there are rare but deadly microbes in the water!
On the drive between Kerosene Creek from Rotorua, you will pass the Rainbow Maintains Track. This is a 3-hour return hike, with gorgeous 360-degree views of Lake Taupō and the volcanic peaks of Tongariro National Park. If you do this hike, Kerosene Creek would be a very welcome relaxing soak afterwards.
Get your heart pumping at Velocity Valley
New Zealand is known for its adventure sports, so you can't skip over this part of your trip! Velocity Valley is an adrenaline park in Rotorua where you can enjoy lots of different adventure sports in one place!
Good for kids and adults with strong hearts, this park boasts BMX trails, reverse bungees, and the only pedal-powered monorail track in the world. You can also try skydiving without a plane in the Xtreme Freefall. Grab your Velocity Valley tickets here.
Belly laugh all the way to the bottom of a ZORB Track
On the drive from Rotorua to Velocity Valley, drop in to try ZORBing, that is, rolling down the side of a mountain track inside a giant inflatable ball. Opt to go fast and steep, take the windy corners, drop mid-air, or race your way down one, or all of the four tracks in Rotorua.
The most bizarre and fun bucket list activity you will ever try!
Where to stay in Rotorua
VR Rotorua Lake Resort
This sustainable property is filled with history. It's located where the First Māori settlement was settled in the region by Ihunga and his dog, on Lake Rotoiti. Just 15 minutes from the centre of Rotorua, it has 2 hot tubs, an outdoor pool, tennis courts, and is surrounded by gardens.
te Whare – Lake Tarawera tree-top nest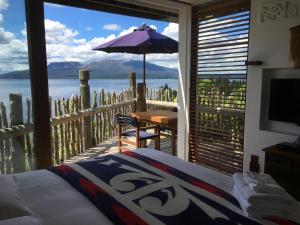 For really unique accommodation, you should try this guesthouse. Located in Lake Tarawera, it's 2 minutes from the beach and has a playground and sun terrace so you can enjoy the outdoors. It also offers rooms with seating areas and kitchenettes as well as lots of opportunities for outdoor activities like hiking.
Rotorua Freedom Camping
There are numerous picturesque DOC campsites for any type of freedom camper located within 15-30 minutes of Rotorua. Only self-contained vehicles will be able to overnight in the free city centre car park spots.
● Rotorua Camping: Lake Ōkāreka Campsite ($15 per night as of Feb 2022) – A scenic lakeside campsite only 15 min from Rotorua. You can swim or fish in the lake!
● Freedom Camping Rotorua: Humphries Bay Campsite (Free) – A basic camping area on Lake Tarawera. The perfect place for a swim, with beautiful water and superb views of Mount Tarawera.
● Rotorua Camping: Rerewhakaaitu, Brett Road Campsite ($8 per night as of Feb 2022) – This is the closest DOC campsite to Kerosine Creek. Camp on the shores of Lake Rerewhakaaitu with good swimming and walking nearby. Bring your own water.
● Central Rotorua: Lakefront Overnight Campervan Parking (Free) – An overnight spot for self-contained vehicles only. The address is 4 Mataiawhea Street, Ohinemutu, Rotorua, near the roundabout on Lake Road.
Stops on the Rotorua to Auckland Drive
Distance from Rotorua to Auckland: 228 km, 3 hours drive
On your trip back to Auckland from Rotorua, we recommend a stopover in Matamata to visit Hobbiton. Allow 3 hours to complete this awesome activity.
Explore the adorable movie set of Hobbiton
Located comfortably between Rotorua, Hamilton and Auckland sits the quaint town of Matamata, the starting point for tours that visit the quaint LOTR movie set, Hobbiton.
The set is located on farmland, and the owners of the land are still proud farmers who outsource the running of the movie set to others since they have no interest in it. Pretty cool, huh?
Explore The Shire first-hand on a charming tour, which is something I enjoyed far more than I anticipated. The whole place is totally adorable and I kind of lost my s**t over it all…
Watch the vlog video below to see me embarrass myself over tiny dried fish and chimneys.
You must take a guided tour of Hobbiton, as they do not allow you to wander the grounds by yourself. But the tour is full of awesome knowledge of the place and I thoroughly enjoyed myself!
Auckland to Wellington Road Trip via Hamilton and Napier
Distance Covered: 973 km, 12.5 hours driving
Total Time Needed: 8 – 14 days total
● Best long road trip from Auckland to see a huge variety of New Zealand attractions.
Driving from Auckland to Wellington is an incredibly popular NZ North Island road trip itinerary. It takes you from Auckland south to Hamilton and the Waikato region before you enter what's known as the "Thermal Highway" where you can see amazing sites like Lake Taupō and the Emerald Lakes inside the Tongariro volcanic crater.
Then you'll go east to Napier to sample wine at Hawke's Bay and get up close to nesting Gannets, before making your way south to Wellington, stopping to see kiwi birds and quaint country towns along the way.
The full Auckland to Wellington drive route is fairly long, so if you don't have the time, cut out the Napier or Wellington itinerary from your North Island road trip.
Wellington to Auckland Road Trip Highlights
● Surf or swim black sand beaches
● Go black water rafting in glowworm caves
● Hike to vivid emerald crater-lakes
● Sail to giant Māori rock carvings
● Visit the nesting gannet colony
● Sample New Zealand's best wines
● Visit the world's longest placename
● Visit museums and get cultured
Places to Visit
● Hamilton / Raglan
● Waitomo Caves
● Tongariro National Park
● Lake Taupō
● Napier
● Hawke's Bay
● Between Wellington and Napier
● Wellington
Waikato and Hamilton Itinerary
Distance: 121 km, 1.5 hours drive from Auckland
Suggested Stay: 4 – 7 days
Waikato gets its name from the Māori word "flowing river". There are loads of awesome Waikato activities to try; it is absolutely bursting with fun attractions like hiking, caving and surfing just to name a few.
For the first leg of this road trip, you'll be making your way south from Auckland towards Hamilton and into the Waikato region, where you can explore glowworm caves and visit the black-sand beaches around Raglan.
Next, you'll stay in the Waikato region but start moving inland where you can attempt the famous Tongariro National Park hike to visit the emerald crater lakes and base yourself in Taupō for a few days, exploring Lake Taupō and doing a bungee jump – if you dare.
Things to do around Hamilton
Since there are so many things to do in the Waikato region, we have split this itinerary into things to do around Hamilton, and things to do around Lake Taupō. First up, here are all the best Hamilton activities.
Swim amongst the black volcanic sand at Ocean Beach
Ocean Beach, also known as Ngarunui Beach, is the main swimming beach in Raglan. This magnificent beach is covered in black volcanic sand that stretches the length of the beach.
Since waves are much smaller here than at Manu Bay, it's the perfect beach to learn to surf. Take a lesson from the surf school that operates on the beach.
There are lifesavers that patrol the beach and picnic and BBQ facilities, bathrooms, sculptures and walking trails.
Experience the longest left-hand break at Manu Bay
Manu Bay referred to locally as The Point, is a known surf spot by surfers around the world. The perfect break allows surfers to travel for up to 2km or for a full ten minutes. It may sound like fun, but paddling back to where you left from is going to be hard work!
Watch the surfers, both professional and amateur alike, as they shred up the famous left-hand break. Or if you're game, jump in on the action!
Go blackwater rafting through the Waitomo Glow Worm Caves
Enjoy abseiling into and exploring underground cave systems, full of glowing worms! Float down a stream inside a natural labyrinth, scramble through a tight cavern and be pushed down a river rapid. This adventurous black water rafting tour is seriously good fun and a great way to explore hidden New Zealand.
Based in the Waitomo Region, you can happily waste a whole day in this area, so long as you have extra money for the numerous adventure tours.
However, if this sort of tour is far too hands-on for you, there are several other options to see the glowworm caves, such as an easy walking tour or a guided boat tour.
Explore a church made of trees
The Tree Church was created by one man, Barry Cox, who wanted to create his own church out of nature. Painstakingly, Barry strategically planted the trees to form parts of a church and trained them to grow in the shapes he wanted using an iron frame.
The Tree Church project began in 2011 and is now almost completely finished. It's a testament both to the adaptability of nature and to the determination of human creativity.
Trek Sanctuary Mountain to find endangered birds
Sanctuary Mountain in Maungatautari is known for its endangered birdlife, which is protected in the area. Once you step through the gate you are transported into another world where ancient forest towers above and the air is filled with birdsong.
Keep in mind, this is a conservation area and by removing all the mammals from Maungatautari, they have been able to reintroduce some of New Zealand's most endangered species back into their natural habitat.
The Southern Enclosure features a bird feeding area and a canopy tower which takes visitors 16 metres up into the treetops of the forest canopy.
Visit the Hobbiton Movie Set
Though we included this activity in the Rotorua road trip, Matamata (where Hobbiton tours start from) is only an hours drive from Hamilton, so you could easily slip this activity to your Hamilton itinerary.
Read our full activity description and tips on the Hobbiton movie set tour by clicking here.
Things to do around Lake Taupo
While you are still reeling from your amazing Hamilton itinerary, it's time to move on to some equally as amazing Lake Taupō activities, including a hike to Tongariro National Park.
Hike to the Emerald Lakes of Tongariro National Park
Have you seen those gorgeous pictures of moody volcanic craters with vivid bright green lakes nestled in the centre? Those photos were taken at the Emerald Lakes on the Tongariro Alpine Crossing hike.
There is no road access to the lakes, so hiking is the only, and frankly best, way to get there! Be sure to note the different colours on the lava flows as you make your way up the valley.
The hike will take a full day, 5 to 8 hours depending on your pace and stops. It is a through-hike, meaning you'll need to organise a return shuttle from either National Park Village or Whakapapa Village.
Though there will likely be loads of people joining you on this hike, it really is a can't miss activity in New Zealand. If you can, take a guided tour so that transfers, lunch, footwear, and crampons are provided, meaning you can simply enjoy the scenery.
Go bungey jumping on Waikato River
Located in the Waikato River, the AJ Hackett Taupo Bungy is one of the most popular bungee jumping spots in New Zealand. It's also a great place for water sport tours like rafting in case you aren't in the mood to jump off a cliff with a rubber band around your ankles.
Soak in free hot pools of Otumuheke Stream
Soak under a waterfall or in the natural rock pools whilst taking in the stunning views of the vivid green, crystal-clear waters of the mighty Waikato River, New Zealand's longest river.
The natural hot pools of Otumuheke Stream are one of the best free things to do in Taupō. They are open every day and are located in Spa Thermal Park, near the Taupo Bungy and Swing.
Marvel at the Mine Bay Māori Rock Carvings
While visiting Lake Taupō, do a half-day kayak or sailboat tour around the scenic Western Bays to see a huge, 10-metre-high Māori rock carving at Mine Bay created by master carver Matahi Whakataka-Brightwell.
The carving depicts Ngatoroirangi, a visionary Māori navigator who guided the Tūwharetoa and Te Arawa tribes to the Taupō area over a thousand years ago. Don't miss this breathtaking cultural activity in New Zealand.
Where to Stay around Waikato, Hamilton and Lake Taupō
Ohaupo Olives Bed and Breakfast
Need a night in a seriously comfortable bed? Ohaupo Olives is just 13km from Hamilton and offers homey accommodation with a barbecue and natural views. It's also very close to the Tree Church listed above. While you're there, make sure that you enjoy a drink on the deck overlooking the garden!
Waitomo Caves: Waitomo TOP 10 Holiday Park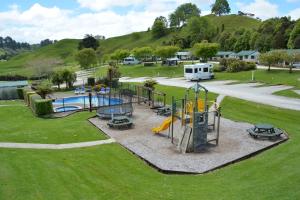 Just 600m from the famous Waitomo glowworm caves, this award-winning holiday park features a large swimming pool, outdoor hot tub, and BBQ area, close to the shops, cafes and restaurants in Waitomo Caves Village.
Mt Ruapehu: Chateau Tongariro Hotel
Right on the doorstep of the Tongariro National Park, the historical Chateau Tongariro Hotel impresses with grand architecture and interiors. The hotel features a games room, in-house cinema, sauna, indoor plunge pool and a fitness centre. The perfect way to spoil yourself after a gruelling hike.
Hamilton & Waikato Camping
● Raglan Camping: Te Kapuoa Whanau Camp ($10 per person as of Feb 2022) – A basic campsite near Ocean Beach with good reviews and nice views.
● Waikato Camping: Roselands Restaurant in Waitomo Village (Free – Temporarily Closed as of Feb 2022) – Simple campsite for self-contained vehicles only in the car park of the Roselands Restaurant.
● Tongariro National Park Camping: Kaimanawa Road Campsite (Free) – The best campsite to stay the night before/after hiking the Tongariro Alpine Crossing.
● Freedom Camping Taupo: Reids Park Farm Campground (Free) – Located on the Waikato River just out of Taupō.
Hawke's Bay and Napier Itinerary
Distance: 141 km, 2 hours drive from Taupō
Suggested Stay: 1 – 3 Days
Napier, located in Hawke's Bay, is a real-life 1930s film set, famous for its streets lined with beautifully-restored Art Deco buildings.
From disaster, came beauty, after a massive earthquake rocked Hawke's Bay, killing nearly 260 people and destroying the city of Napier. Rebuilding commenced almost immediately, reflecting the architectural style of the times and making Napier the spectacular city it is today.
Things to do in Napier
Don't miss an Auckland to Napier road trip! Here's a list of just some of the cool things to do in Hawke's Bay to keep you occupied for a few days.
Discover Napier's History on an Art-Deco Walking Tour
Discover the fascinating story of Napier's heritage on this easy walking tour. Learn the history of Napier and the earthquake which levelled the town in 1931. The city is now recognised as the most complete Art Deco city in the world.
Your Art Deco Trust guided tour will start in the centre with a viewing of the 1931 Earthquake film where you will hear of the devastation of the city and the stories of the people it left behind. Then you will embark on a one hour walk with a professionally trained guide.
There are four tours a day in Summer at 10 am, 11 am, 2 pm and 4:30 pm and in Winter at 10 am and 2 pm.
Visit Napier Prison
Hear stories of villains, victims and heroes while wandering through the dark corridors of New Zealand's oldest prison. This is where Ghost Hunters International used the site as their season finale episode.
Try something different and visit this dark tourist attraction. Napier Prison specialises in escape room experiences and guided tours.
Savour New Zealand's best wines in Hawke's Bay
Hawke's Bay is well-known as being one of the best wine regions in the country, possibly even the world. Visit one, or a few, of the 30+ cellar doors from 70+ wineries and 200 vineyards scattered throughout plains, mountain peaks, valleys, and coastal cliffs of Hawke's Bay.
Some cellar doors require an appointment while others allow walk-ins. We recommend you go on a wine tour and let someone else take care of you (and drive) for the day!
Don't miss the Cape Kidnappers gannet-watching tour
Cape Kidnappers is home to the largest and most accessible mainland gannet colony in the world. Gannets are members of the booby family, with distinctive eye and feather markings, and a 6-foot wingspan. Experience the parent birds dive into the ocean to bring back fish for their chicks, or perform their recognition ritual dance upon their return.
Technically you can visit the gannet colony between September to early April, however, go between November to late March to see the young gannets being fattened up in their nests.
Visiting the 20, 0000 gannets on a gannet-watching tour is an awe-inspiring experience and one of the best activities in Napier that should not be missed.
Where to Stay in Napier
The County Hotel
Stay in one of only two significant buildings to have survived the massive 1931 earthquake. Refurbished as a premier boutique hotel, the County Hotel is located right in the centre of all the Napier attractions and has all the facilities you could want, including a library and free secured parking.
Pebble Beach Motor Inn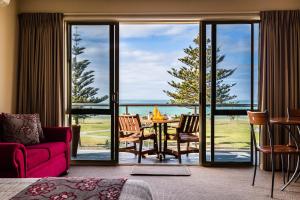 Unwind after a long day on your own private balcony overlooking the Pacific Ocean. Pebble Beach has lavishly appointed each room with super-king sized beds, rainforest showerhead, and in-room spas for you to soak away your worries. Free WiFi and free on-site parking are provided.
Freedom Camping in Hawke's Bay
● Hawke's Bay Camping: Lake Tūtira Campsite ($8 per person as of Feb 2022) – Camp on the edge of a lake and marvel at the table mountain nearby. This freedom campsite is 40 minutes driving to Napier.
● Napier Camping: Perfume Point Carpark (Free for self-contained vehicles only) – A small car park in Napier near the water
Stops on the Napier to Wellington Drive
Distance from Napier to Wellington: 256 km, 4.5 hours drive
Most people don't stop much along the drive between Wellington and Napier, believing there isn't anything to see. But since you're road-tripping we wanted to let you in on some worthwhile stopovers to help you split up the journey.
There are a few ways to drive between Napier and Wellington. The quickest route is via State Highway 50 and 3 going straight at Woodville and travelling past Palmerston North and Levin. This route takes about 4 hours of drive time.
A more scenic route, which adds only 15 minutes of drive-time, is to turn right at Woodville to stay on Highway 2 and head towards Pahiatua and Masterdon. This route has a few great attractions to stop at, we have listed a few of these below.
Visit the world's longest placename
If you have the time, take a 60-minute detour to visit the world's longest place name: Taumatawhakatangihangakoauauotamateaturipukakapikimaungahoronukupokaiwhenuakitanatahu.
On the side of the road just after Pōrangahau, you'll come across a nondescript looking hill with a sign stating the extra-long placename and a description of the area.
The name translates to "the brow of the hill where Tamatea, the man who climbed, slid, and swallowed mountains, played his koauau (nose flute) to his beloved." In this case, beloved was actually his brother who died in battle nearby.
Enjoy a tasting of their latest drops at Tui Brewery (Tui HQ)
Sample a tasting of Tui HQs delicious and often exclusive drops, stroll the historic grounds of this New Zealand icon, try something from their menu, or make use of their famous toilets.
You can also watch the brewers in action on a personalised guided tour through their state of the art, iconic brewery, which finishes with a tasting session of tap beers of choice. Tours start at 11:30 am each day.
See endangered birds at Pūkaha Mount Bruce Sanctuary
See conservation in action and visit the first white kiwi in the world at Pūkaha National Wildlife Centre. Check out their free-flight aviary, take a two-hour tramp through the forest, and learn about endangered native wildlife.
The Mount Bruce Reserve is a restored forest and captive breeding site, home to endangered wildlife such as brown kiwi, pāteke (brown duck), whio (blue duck), takahē (flightless bird), kōkako (endangered forest birds), kākā (large native parrots), orange-fronted parakeet, tuturuatu (shore plover), giant wētā, and native longfin eels.
Try to make it to one of the animal feedings or talks if you can. You can feed the tuna (eels) at 1:30 pm if you dare, and the endangered kākā birds feeding at 3:00 pm is an absolute highlight.
Wellington Itinerary
Distance: 256 km, 4.5 hours drive from Napier
Suggested Stay: 2 – 3 days
Situated at the southern end of the North Island, Wellington offers a great mix of art, culture, history, nature, coffee and craft beer. Victorian timber architecture hugs the glowing harbour as locals get swept away in the wind. It's the perfect end to the longest of our North Island road trips.
Things to do in Wellington
Bursting with vibrance and creativity, New Zealand's coolest little capital city is constantly buzzing with cool events and activities. Here are a few of our favourite fun things to do in Wellington for you to add to your North Island road trip itinerary.
Explore the Te Papa Museum for everything NZ
Visit the Te Papa museum for all things New Zealand. Said to be the best museum in the country, this place has it all from amazing art installations to natural and Māori history. Even the name, 'Te Papa Tongarewa', translates to a container of treasures. And just to top it all off, it's totally FREE! Unless you want a guided museum tour that is.
Get lost in film special effects in Weta Cave
This one is for the movie buffs. At Weta Workshop you'll find behind the scenes work such as concept design and prop production used in some of the best movies Weta Digital have produced. These include; Lord of the Rings and the Hobbit films, Tintin, Avatar, Thor, Blade Runner 2049 and Ghost in the Shell.
Weta Cave is also totally free unless you would like to participate in a hands-on workshop or studio tour.
Walk Mount Victoria for incredible city views
Mount Victoria is famously featured in one of the LOTR movies and it sports brilliant views of the city below. Located right in the central business district, it is a short drive to the top or an easy walk through the bush-covered town belt.
Be immersed in the Cuba Street District culture
In this area you'll find hipsters, buskers and businessmen alike, mingling in the culture, cafes, shopping districts and street art. Anything goes here, so be prepared to hang out with the city's alternative crowd.
Visit The Wrights Hill Fortress historic landmark
The Wrights Hill Fortress was completed in the final years of WWII and were never used. They consist of long underground tunnels that have been recently restored and named a historic landmark. The tunnels were used to capture audio of a dwarven mine in the Fellowship of the Ring.
Where to stay in Wellington
Atura Wellington
When you stay in Wellington during your North Island road trip, you want to be close to everything. And that's exactly what this hotel offers. It's within walking distance of the Lambton Quay shopping area and offers a restaurant with beautiful garden views as well as free access to a gym. Parking is $25 per night.
Camping Wellington
● Wellington Freedom Camping: Bucks Road Campsite (Free) – The closest DOC Freedom Campsite to Wellington (1 hour 10 minutes from Wellington). It is a picturesque campsite above the Tauherenikau River set in regenerating bush and the perfect place to stay between Napier and Wellington.
Where to Next?
This is our only road trip from Auckland that ends in a different city to where it started. If you have hired a vehicle, you will need to pay for an alternative drop off location or drive the 8 hours back to Auckland.
Alternatively, you can catch a ferry from Wellington to Picton on the South Island and continue with your New Zealand road trip.
GOING SOUTH? Here's a List of Free things to do in Queenstown!
Can you pick up a vehicle in Auckland and drop it off in Wellington?
Yes, you can but each campervan and car hire company will have its own policy regarding one-way hires. It's best to compare prices between hire companies as some charge little for the different drop off, while others can charge $500 extra.
Driving in New Zealand: What You Need to Know
You'll probably find it quite relaxing to drive in New Zealand – I know I did! The country is very scenic and the traffic is extremely sparse compared to other parts of the world. However, there are still some things you should look out for during your North Island road trip.
Winding Roads
Although New Zealand is fairly small, there are also few cities with long stretches of very winding roads between them. The roads can honestly be a little hair-raising, especially at night or when they're hilly and windy at the same time!
Weather Extremes
New Zealand is known for its temperamental weather, which can change without warning. Be vigilant, check weather reports, and never try to drive if you're unsure. It's always better to pull off the road if conditions are unsafe than try to navigate hilly, winding roads in high winds or storms.
NZ Driving Rules
Despite the isolation of New Zealand's roads, traffic laws are still strictly enforced. So, always drive on the left, wear your seatbelt, and obey any speed signs you need. That will save you from having to pay expensive fines during your North Island road trip.
Emergencies
In the case of a major road accident or emergency which requires the police, fire, or ambulance, call 111. For non-emergencies that require police assistance, call 105. Save these numbers into your phone for quick access before you start your road trip in New Zealand.
Everyone in New Zealand, including visitors, have 24-hour, seven-day-a-week, no-fault covers for the costs of medical services required to treat any injury caused by an accident under New Zealand's Accident Compensation scheme (ACC). The cost of the scheme is covered by a levy included in the vehicle licensing. This is not a replacement for Travel Insurance and does not cover illness, disrupted travel plans or emergency travel to get you back home. We strongly recommend customers arrange travel insurance before visiting New Zealand.
Do you need an International Driver's License in New Zealand?
Before you plan any road trips from Auckland, you need to know whether you're allowed to drive there. In NZ, you're allowed to drive for up to 12 months as long as you have a current driver's license from your home country. You can also get an International Driving Permit (IDP), but it isn't really necessary.
While in New Zealand, you need to have your driver's license with you at all times when you're driving. And you still have to obey all the stipulations that are on your license. So, if you need to wear glasses or only drive a certain type of car at home, that applies in New Zealand as well.
If your driver's license isn't in English, you will need an international driver's license or you'll have to get a translation from a New Zealand Translation Service or an embassy, consulate, or high commission. If you don't get a translation, then you could be prosecuted for driving without an appropriate licence. This could cost you between $400 and $1,000 in infringement fees. That's a sizeable chunk out of your North Island road trip spending money!
How to Rent Campervan in Auckland
Renting a vehicle in Auckland is super easy. It's generally the same as it is anywhere else in the world. Generally, most hiring companies will prefer driver's to be 21 or older.
Travellers Autobarn in New Zealand will rent campervans to drivers as young as 18 years (max 80 years) who have a full valid driver's license (state, national or international). However, guidelines will vary between rental suppliers.
When renting a car or van, it's a good idea to check the prices across a variety of companies. Just keep in mind that the lowest initial price may not end up being the lowest final price after insurance and other costs are factored in.
One of the best options to hire campervans in New Zealand is Travellers Autobarn which focus entirely on the special needs of backpackers and road trippers. They have a wide range of competitively priced campervans to suit all types of travellers, from something economic and small to a van that's more comfortable and spacious. Plus, they don't charge for mileage or extra drivers, which makes a great difference if anyone is planning a long road trip from Auckland with friends.
Follow these handy tips when renting a car or campervan in New Zealand to make your experience smooth and positive.
Check Your Car First
Wherever you are in the world, you should always check your rental car before you drive it off the lot. This applies during road trips from Auckland as well. Check the condition of the car and video it to show any scratches or damage. This will ensure that there aren't any misunderstandings at the end of your trip.
Get New Zealand Car Insurance
Technically, you don't need car insurance to go on a road trip in New Zealand. However, this doesn't mean that you should just skip it. If you're at fault in an accident during your North Island road trip, you'll have to pay for all vehicle repairs or replacements and injuries to any other party involved. You will also have to pay for repairs for the car you're driving.
Obviously, this can get very expensive, very quickly. And accidents, mostly minor ones, are extremely common among New Zealand visitors, so you really should take steps to make sure that you're covered just in case.
When you hire a car in New Zealand, you'll find that most reputable car companies include comprehensive motor vehicle insurance in their daily rate. This usually includes everything from third-party and public liability, to government fees and roadside assistance membership.
I'm not going to tell you which fund you should get or lecture you on your choices. But if you're concerned about the cost of car insurance, then here are some terms that will help you make a more cost-effective decision:
● Comprehensive Insurance covers the cost of your own car and any other vehicles involved in an accident and is the most expensive option.
● Third-Party Insurance only covers the damage you cause to other drivers, not damage to your own car. You can add fire and theft cover to this type of insurance.
● Driver-based Policies means you're covered no matter what car you're driving. It's a good idea if you intend to be driving numerous cars during your stay.
● Vehicle-Based Policies cover your car no matter who drives it. It's the best choice if you're travelling with some mates and want to stay covered no matter what.
● Excess is the amount you will have to pay before the insurance takes over and it varies a lot from one policy to the next. Basically, the cheaper the policy, the higher the excess, which means you may have to dig deeply into your travel fund in the event of an accident.
Does Your Travel Insurance Cover Rental cars?
Some travel insurance companies may offer plans that cover rental cars. If you are considering buying travel insurance for this reason, make sure you check the fine print to ensure your rental is actually covered.
World Nomads Travel Insurance
World Nomads offers rental car coverage on their Explorer Plan. This plan cover repairs and rental charges if your vehicle was stolen, vandalised or damaged because of a collision, weather, or other forces beyond your control.
Use this box to search their travel insurance plans.
How to get good deals on motorhome hire in New Zealand
Renting your motorhome is going to be one of your biggest expenses. But there are several ways you can easily find deals for hiring a motorhome, especially if you are going to New Zealand in the low season.
If you are travelling to New Zealand in the shoulder season; Spring (September to November) and Autumn (March to May) or in Winter (June to August) you're going to find it a lot easier to get great deals on campervan hire. You'll also find most tourist attractions and activities will have special prices for the low season as well.
To find out prices, start by searching for motorhome comparison sites. Most campervan sites have deals for things like off-season and extended rental. Once on their site look for the deals page (usually at the top of the menu).
Here are a couple of deals to get you started. Note that for some of them you might have to scroll down to New Zealand, as they are international deals.
Comparison Sites
Campervan Hire Companies
Useful Information on Camping in New Zealand
Camping makes the best road trips from Auckland even better. But New Zealand has its own rules for camping, and you need to follow them if you're going to have a trouble-free time. You can camp at designated campsites and parks all across the country for free or for a fee.
Freedom Camping in New Zealand
Freedom camping is when you camp on public land that isn't a recognised camping ground or holiday park.
Every district and council has different bylaws on freedom camping. Some will not let you freedom camp within 1 kilometre of the town, or will only let you stay in a car park for 1 night.
Generally, freedom camping rules are as follows:
● Don't camp where the signage says it's prohibited.
● You can only camp in certain areas if your campervan is self-contained, which means it has its own toilet, fresh water, wastewater storage, and a waste bin with a lid. You can hire campervans that are specifically self-contained, check with your rental company about this option.
● Wherever you camp, take your rubbish with you when you go.
● You must use designated toilet facilities or your own toilet, don't go in the bush.
● You can freedom camp on Department of Conservation (DOC) land, but you need to check-in and pay online where applicable.
Camping on DOC land
Freedom camping on DOC land is generally allowed, with some exceptions. There are some places on DOC land where you cannot camp because the site has a special value, for example, it's a Māori burial site (urupā) or a protected plant or animal is there. You cannot camp at DOC reserves unless signs allow it.
Free DOC campsites
DOC has basic campsites where you can stay for free. Usually, you do not have to be self-contained to stay at DOC campsites because there are facilities available. Check each individual campsite for more information and search for free campsites here.
Find Freedom Camping in New Zealand with these Apps
● CamperMate (It's FREE!) Useful for locating campsites, and it is colour coded by cost so you can always remain within your budget.
● WikiCamps NZ ($2.99) This app is also useful for finding campsites and is a little more user-friendly, however it does cost a small amount of money.
● Rankerz Camping NZ (It's FREE!) Features every legal New Zealand camping location, plus offline maps.
Enjoy Your North Island Road Trips
We hope you've found this information on taking road trips around the North Island of NZ useful. Feel free to ask us any questions using the comments form below. And make sure you save this post for future reference!
What are the places you would put on your North Island Itinerary, New Zealand?